Dive Flap Test



---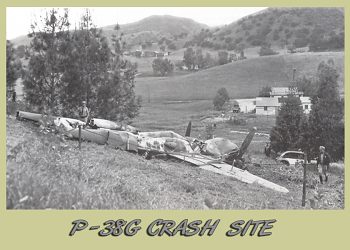 Col. BEN KELSEY's TAILLESS P-38 FIGHTER LIES UPSIDE DOWN ON A CALABASAS HILLSIDE APRIL 9, 1943

On 9 April 1943, the modified P-38G was flown by Col. Benjamin S. Kelsey, Chief of the U.S. Army Fighter Branch at Wright Field, Ohio. Kelsey took off from Burbank in the afternoon, intending to deploy the dive flap after reaching critical speed. He climbed to 35,000 feet over the San Fernando Valley, heading west. At about 1:08 p.m., near Calabasas, Kelsey nosed over into a steep dive. As the aircraft's nose began to tuck under, he pulled on the dive flap handle. Nothing happened. Kelsey pulled harder until the handle suddenly broke. Desperately, he applied full rudder and aileron simultaneously. At this point, the tail disintegrated, and the P-38 entered an inverted spin.

Kelsey unlatched his harness, and forced his shoulders against the canopy. One wing snapped off, and Kelsey was suddenly catapulted out of the cockpit. His parachute opened almost immediately, and Kelsey was nearly hit by the falling outer wing panel. The aircraft impacted inverted on a hillside northwest of Calabasas. The pilot landed several hundred feet away, breaking his right ankle and bruising his lower lip. He received first aid treatment from L.B. Fletcher and Henry G. Miller at the nearby Motion Picture Guild.

At 1:30 p.m., a small fire resulting from the crash was extinguished by three pumper trucks from the Malibu Forestry Headquarters. Lockheed Chief Engineer Clarence L. "Kelly" Johnson took charge of the crash site at about 3:00 p.m., and Kelsey was transported to Los Angeles Hospital by Lockheed ambulance.


---
Copyright © 2004-2016, The X-Hunters. All rights reserved. Copyright Policy Privacy Policy Page last modified 01/30/2007